Quality Assurance System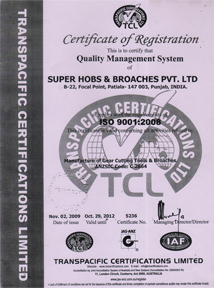 Material Procurement
The raw material is either procured from Bohler High Performence Metals Pvt. Ltd. a Subsidiary of Bohler Austria or is Imported from Japan or procured from Powmex Steel Limited set up in collaboration with Boehler Steels Limited.
Material Identification
The stored raw materials are identified by color code by applying colors on the face as well as length of stored material. In addition to the color code every raw material bar is given unique identification number. Record for the identification number is maintained to fecilitate identification of supplier as well as materials. The unique identification number of the bar is kept intact until whole length of the bar is consumed.
Shelf Life
The raw material is stored in iron racks. Since the inventory of the material is maximum three months there is no need for any measures for control of shelf life etc. Prior to finishing tools are sand blasted to remove any rusting agents. After grinding and finishing tools are applied rust preventives and are securely packed in polythene bags and cardboard boxes.
Calibration
Periodic Calibration of the measuring instruments and testing equipments is done as per BIS with the help of master gauges and meters or from some outside agencies.
Process Control (Heat Treatment)
The temperature of the heat treatment furnace is being controlled with the help of Digital Temperature indicators and controllers, infrared type pyrometer, optical pyrometer and thermocouples.
Internal Inspection
The inspection of the tool to be produced is being done at every stage of machining by keeping necessary Finishing / Grinding margins and expansion tolerances during heat treatment. After heat treatment the tools are ground to close tolerances as per standard specifications or as per specific requirement of the customer as per drawings etc.
Maintenance of Quality Records
The maintenance of quality records for special as well as standard tools manufactured as per customers drawing and specifications is being maintained by preparing drawings and by keeping a record of the same by giving specific job / reference number to facilitate repeated orders.